Sale price
Rs.1,799
Regular price
Rs.3,000
Save 1,201
Unit price
per
Sale
Sold out
Top Notes:
Middle Notes:
Base Notes:
View full details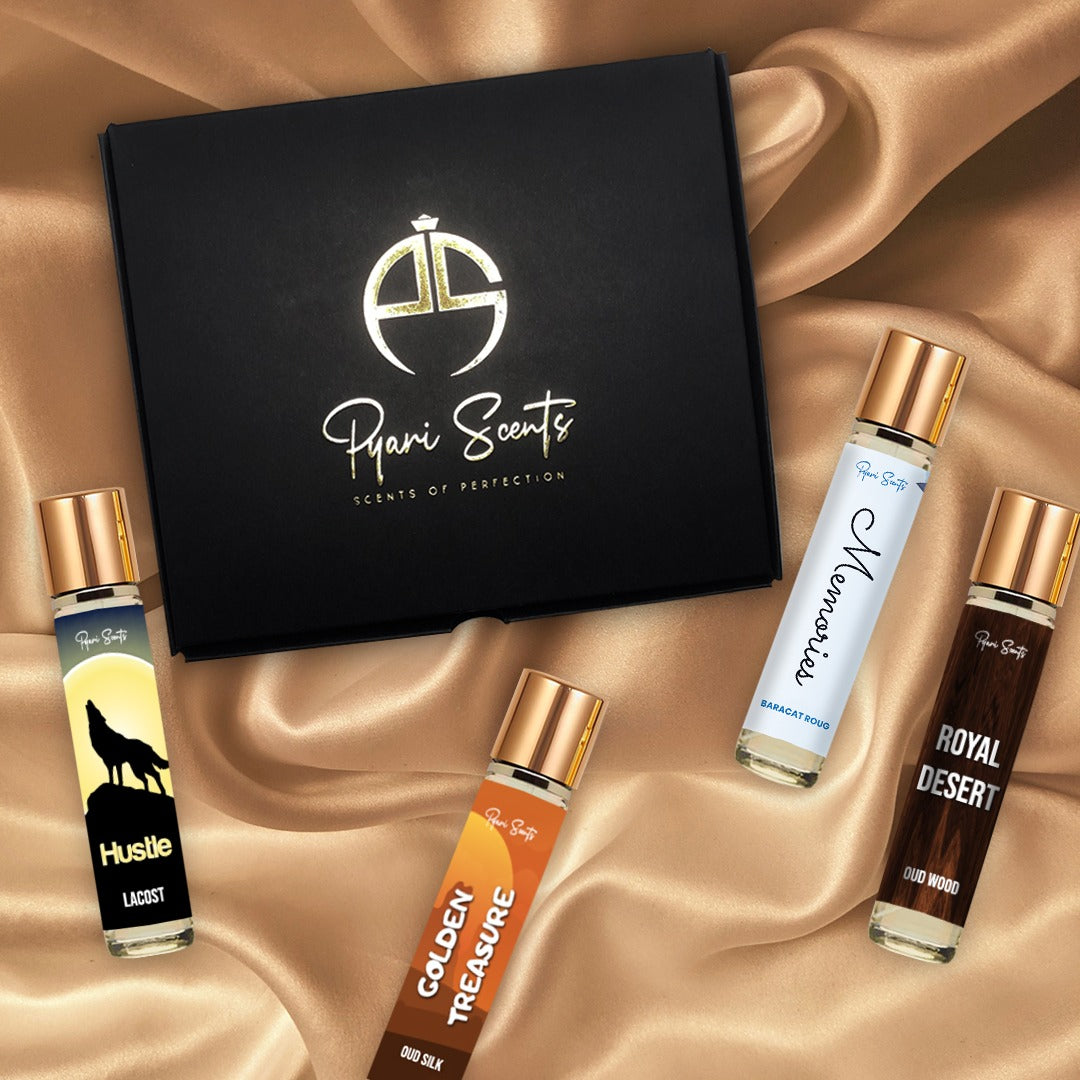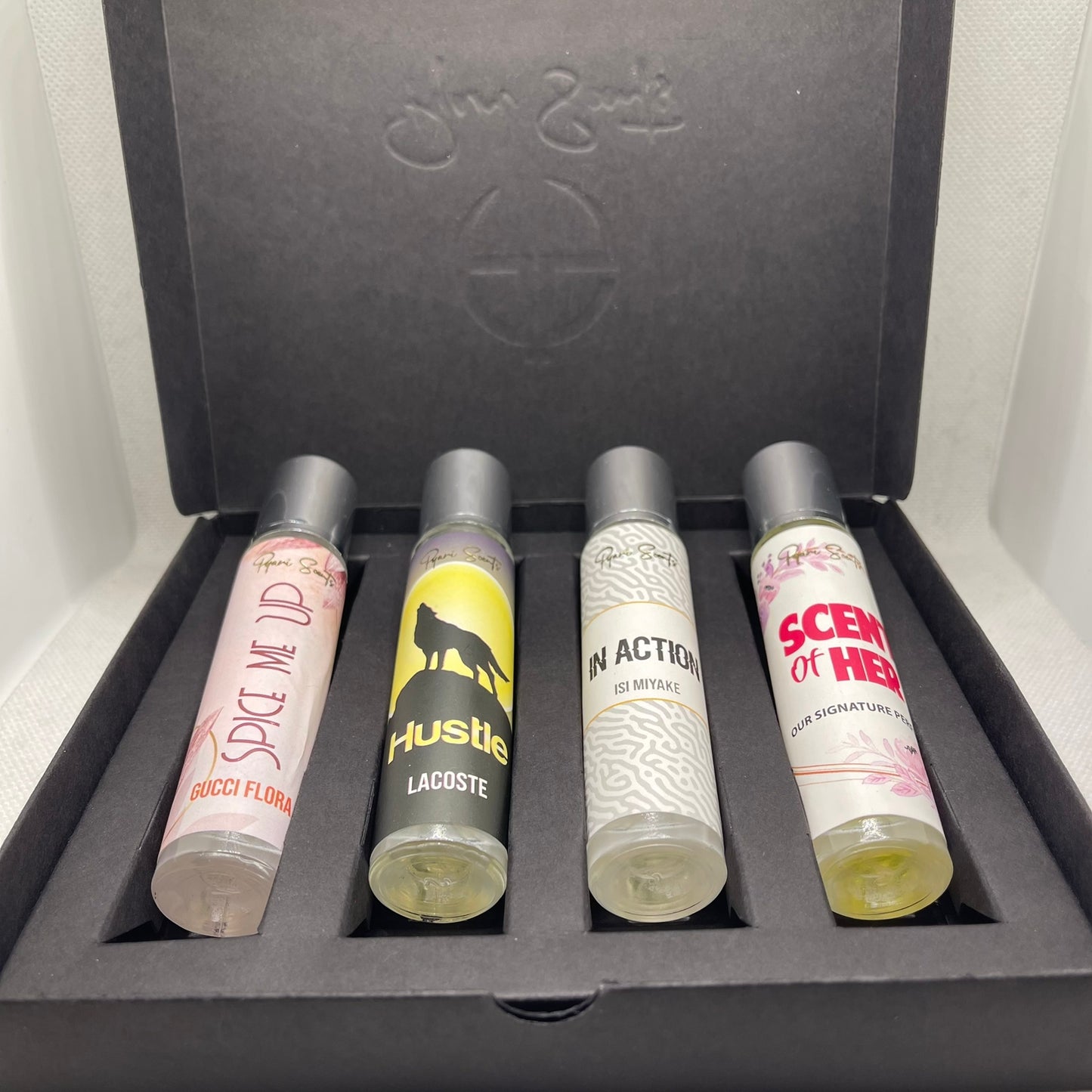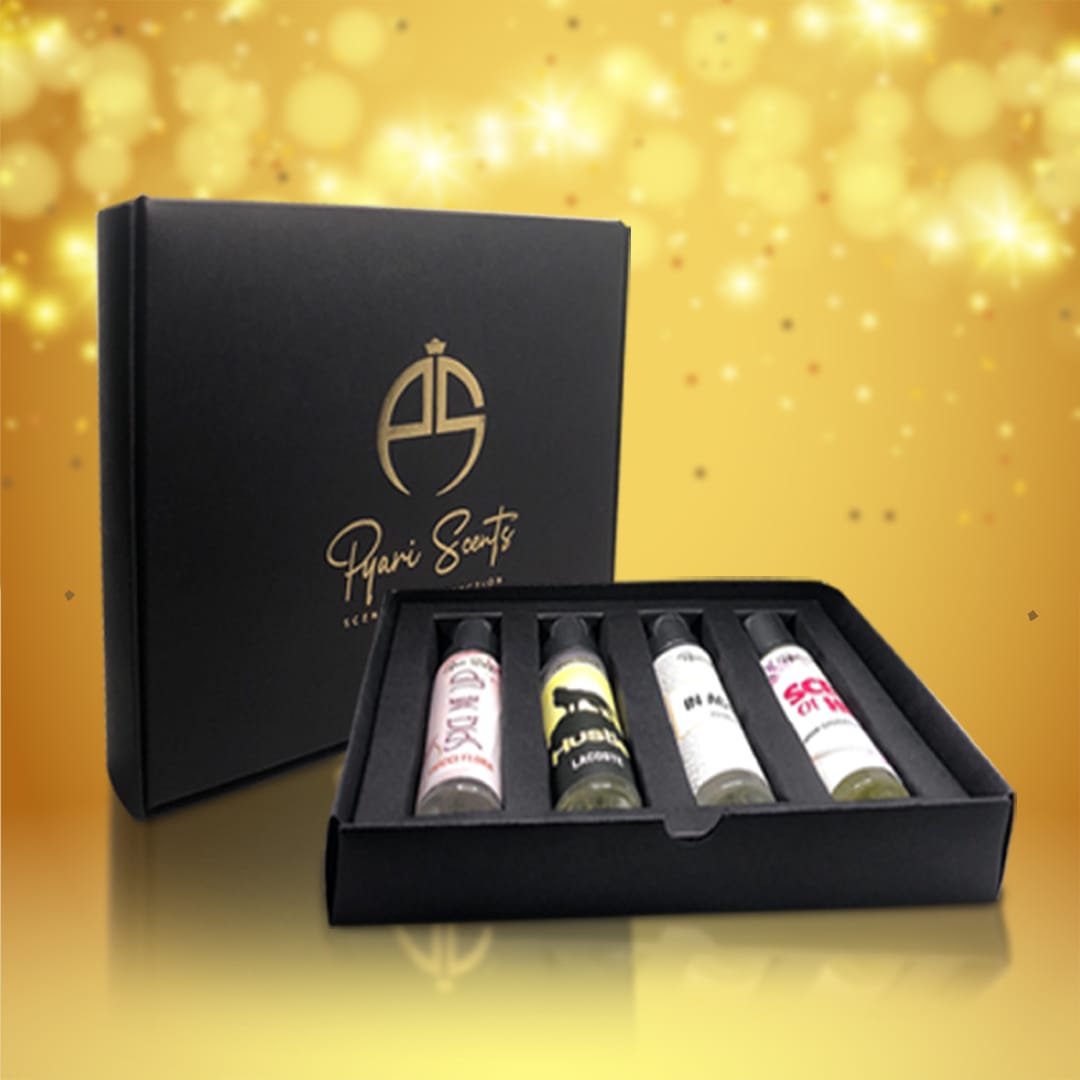 Collapsible content
Description

Introducing our exclusive offer of the Best Scents in Pakistan - "Buy bundle of 4 of your choice (15ml)." This captivating collection is meticulously designed to provide you with an exceptional olfactory experience. With a diverse range of scents to choose from, you have the freedom to curate your own fragrance journey.

Our bundle features 4 of your favorite scents, each crafted to perfection to resonate with your unique style and personality. Whether you lean towards floral, woody, citrusy, or oriental notes, our Best Scents in Pakistan collection caters to your preferences.

Embrace the allure of our Best Scents in Pakistan as you explore and create your own signature scent combination. With its long-lasting fragrance, each 15ml bottle accompanies you throughout the day, enhancing your confidence and leaving a lasting impression.

Crafted with the finest ingredients, this bundle of Best Scents in Pakistan stands out with its remarkable and captivating aromas. Its carefully curated notes are blended to perfection, offering you an olfactory journey that reflects your individuality.

Experience the enchantment of selecting your own bundle from the Best Scents in Pakistan. Elevate your senses, embrace your style, and leave a lasting impression with each spritz. Choose the Best Scents in Pakistan that resonate with your personality and allow your fragrance to speak volumes about who you are. Indulge in a fragrance collection that reflects your essence and enhances your presence. Elevate your fragrance game with our bundle of 4 of your choice (15ml) and embrace the allure that sets you apart. Embrace your true essence and let your fragrance shine through with this captivating offer from the Best Scents in Pakistan collection.

You can Select from these (15ml each)


Tempting Tonight - Inspired by Avantus
Millionaire - Inspired by Million
In Action - Inspired by Isi Miyake
All I Want - Inspired by G. Guilty
Down to Earth - Inspired by Savage
Misty Desires - Inspired by Blue De Parfumo
The Sixth Scent - Inspired by Eternity
Hustle - Inspired by Loco. White
Spice Me Up - Inspired by G. Flora
Our Own Impression - Scent of Her
Lucky - Inspired by My way
Lady Luck - Inspired by G. Bloom
Final Touch - Inspired by K One
Golden Treasure - Inspired by Oud Silk Mood
Heaven Blessing - Inspired by Oud G. Intense
Black Ice - Inspired by Black Afghano
Mystery - Inspired by TF Tobacco Oud

 
Shipping

Shipping policy

It may take 3-5 working days or more for Punjab Cities of Pakistan.
It may take 5-7 Working days or more for all other cities of other provinces else then Punjab
In case of road blockage, public holidays, it may take longer than the committed time to deliver parcel.
Excellent
Keep it up mashAllah good job 👍🏻
Sub Heading

100,000+ Happy Customers

More Than 100,000+ People
Are Happy With Their Perfumes
Purchased From Pyari Scents

Long Lasting Fragrances

We Set Our Concentrations As High As Possible To Ensure Maximum Lasting Of The Perfumes

7 Days Return Policy

Not Satisfied With Your Purchase?
Get an Exchange or Refund For Upto
7 Days Of Purchase